---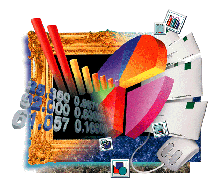 ---
---
Advantages
The functions and use of APPGALLERY components are easy to understand.
Customized components can be created and distributed to users, assuring consistent application development.
OLE2 support means off-the-shelf software is useable within APPGALLERY, and APPGALLERY components useable in other programming languages.
---
All the components required to build applications for increasing business productivity are supplied with APPGALLERY. Users intuitively understand how to exploit the familiar functions these components provide. OLE2 support allows off-the-shelf software such as Microsoft Excel 5.0 and Microsoft Word 6.0 to be used as components within APPGALLERY. It also allows APPGALLERY components to be used in other programming languages such as Microsoft Visual Basic and Microsoft Visual C++.
This component enables the creation of interface elements such as windows and dialog boxes. One example of its use is as a front-end for a database query mechanism, which is accomplished by embedding other components linked to the database, such as a table component. Given a standardized configuration of embedded relationships, an end user can customize the form component to meet local or individual needs.

Business reports can be created with this easy to use, free-form component. Report layout can be created or changed by simple mouse operations. Report content can be linked to a table component to achieve automated updating of important information.

The control component provides a set of controls for building an application's GUI. A user can add controls such as labels, text boxes, buttons, radio boxes, check boxes, spin buttons, list boxes, combo boxes, boards, scroll bars, timers, pop-up menus, pull-down menus, dialogs, file dialogs, color dialogs, and font dialogs.

The table component provides a database access facility for the table and database components. It additionally has "grouping" and "overlay" functions to display records and fields hierarchically. Tables can be reformatted by axis rotation through direct mouse operation.

This component allows the conversion of numerical data into a chart. Links to a table component, or OLE2's exchange facility, can be used to supply the chart data. If a chart is linked to a table component, its appearance will dynamically reflect changes in the structure of the table.

This component enables access to any DBMS supporting an ODBC interface, such as ORACLE7, Microsoft SQL Server, or Microsoft Access. Database tables can be formed in conjunction with the table component.

Multimedia components allow sounds, images, and digital video to be used in business applications. Dramatic visual effects such as fades, wipes, and curtains can be used as transitions in synchronized sound and image presentations.

In addition to these standard components, APPGALLERY is able to use off-the-shelf software as components, owing to its support of OLE2. Microsoft Excel 5.0 and Microsoft Word 6.0 are prominent examples. Users can also develop their own components to meet their special needs, and reuse these building blocks in future applications.
---
[Home]
[Up]
---
All Rights Reserved, Copyright (c) 1999, Hitachi, Ltd.
WRITTEN BY SOFTWARE DIVISION & SOFTWARE DEVELOPMENT DIVISION
Please send your comments and/or questions on Hitachi Open Middleware to WWW- mdc@soft.hitachi.co.jp